Reusable Bags for Companies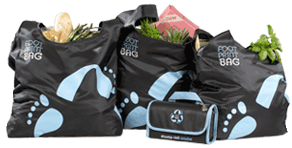 Footprint Bag Reusable bags? come in quantities to suit your budget and can contain your Logo and branding in a variety of materials and colours.?This provides a permanent marketing tool for your company, as well as being appreciated by your Customers.
Show that you care about the environment and want to help eradicate the need for plastic bags. Footprint Bags are fold up shopping bags that are reusable, durable, stylish and practical.
Minimum Order quantity is 1,000.
If you are interested in making an impact with a useful, eco-friendly product then contact us for further details on a no obligation basis. We are proud of our products, service and Customer testimonials!
?