Footprint Bags...
The Reusable Bag Pack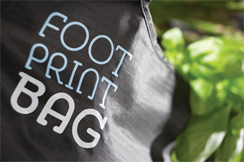 Footprintbag is designed to be hung on your supermarket trolley and holds eight reusable bags in individual pouches.
At the checkout point, it can be dropped open to reveal the pouches; the reusable bags can be easily pulled out as needed. It is a convenient alternative to harmful disposable plastic bags and will change the way you shop.