Footprint Bags...
Reusable Shopping Bag Pack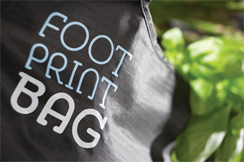 The 4-pack or 8-pack is perfect for all your shopping trips from food to clothes. Its compact size makes it easy to pop in your handbag and never be without.
Just think you never need to pick-up another plastic carrier bag and you're guaranteed to look a whole lot more stylish on your shop!
At the checkout point, it can be dropped open to reveal the pouches; the reusable bags can be easily pulled out as needed. It is a convenient alternative to harmful disposable plastic bags and will change the way you shop.