Father's Day Gift – It's Reusable!
Don't Forget Father's Day 20th June 2010 !
The perfect Father's Day Gift:  FootprintBag's 4-Pack!
SPECIAL OFFER – 10% DISCOUNT AND FREE P&P!!!
The 4-pack is an ideal gift for dads everywhere.
Small, convenient and stylish – it contains four shopping bags and a trolley coin and fits easily into a glove compartment.
Dad's can use the bags to carry other things, not just shopping.
Interesting fact which dads will love:  The bags are made of parachute material which is incredibly strong – perfect for men as well as women!
Use the DAD10 Discount code to claim your 10% off at checkout.
Offer ends 21st June 2010.
Need more convincing? Which would you use?
8 x Bulky Hemp Bags = 1 x FootprintBag
5 x Cardboard Boxes = 1 x FootprintBag
2 x Bag for Life and a few checkout carriers = 1 x FootprintBag
Our FootprintBag pack is so good because it was created by exactly the people who use it – eco-minded mums and dads who regularly do family shops – not designers sitting in an office in front of a computer.
Footprint Bags can be found in retailers such as Lakeland and have recently teamed up with a major supermarket, so look out for our bags. Join the revolution!
Our convenient multi-pack meets the real consumer need to find an alternative to plastic bags. FootprintBag packs make re-using stylish and easy.
Independent market research on FootprintBag shows overwhelming results:
- 86% like the concept of our multipack.
- 65% would consider purchasing the FootprintBag
Browse our website Footprint Bag
or
watch the video and see why we are different, Bag Video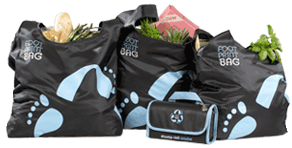 admin Footprint Bag Eco Bags, fold up bag, Footprint Bag, Reusable Bag, Reusable Shopping Bag, Reuseable Bag, shopping bags